Basement Water Damage: Understanding The Causes And Solutions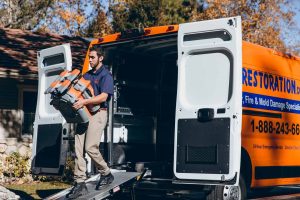 Basement water damage is a problem. There are many ways water can get into your basement, including through foundation walls or through the floor. In this article, we'll discuss the causes and signs of water damage in basements. We will also discuss how to prevent the basement from leaking and more.
What are the Signs of Water in the Basement?
The most obvious indicator that there is a problem with your basement is standing water. You may also notice other signs that your basement is waterlogged. You should check for water every few days, especially after heavy rains or fast winter thaws.
Efflorescence – Salts from masonry can appear when water seeps through foundation walls and dries.
Musty Odors- Does your basement smell? Unpleasing odors after rain can be a sign of basement leakage.
Mold – Do you have mold problems? Mold can grow on floors and walls if they get wet. Also, mold can be found on flooring and walls.
Colors – Are your floors, walls, and ceilings stained? Basement water can cause dark spots or yellowish-brown marks.
What Causes Basement Leaks?
Your basement could have water for many reasons. It is the lowest point in a home, and water can easily accumulate there. The basement walls and floor are where water pipes and sewer lines run. The foundation walls and floor can be flooded by water to cause damage.
Broken Basement Floors or Walls
When it comes to basements, cracks in the floors and walls can pose a serious problem. However, it's not just cracking that you need to worry about. Water can seep through walls even if they appear to be intact, and it can also find its way in between the foundation walls and the floor. This can lead to a range of issues, from dampness and musty odors to mold growth and structural damage. 
That's why it's important to address any signs of water damage in your basement as soon as possible, to prevent further damage and ensure the safety and integrity of your home.
Leaky or Broken Pipes
A burst or leakage in the foundation walls of your basement can result in serious damage to your home. While leaks can also occur from water or drain pipes, this is a relatively rare occurrence in comparison. 
Regardless of the cause, any type of basement water damage can have a significant impact on your home, leading to issues like mold growth, structural damage, and compromised indoor air quality. To avoid these issues and protect the safety and integrity of your home, it's essential to take action at the first sign of water damage in your basement.
Poor Drainage around Your Home
To maintain a dry basement, it's important to ensure that water is able to drain effectively away from your home. However, if your gutters or landscaping are clogged or obstructed, water can accumulate around your foundation and potentially lead to water damage. 
Additionally, cracks and worn-out waterproofing can allow water to seep through and infiltrate your basement. These issues can result in a range of problems, including dampness, mold growth, and structural damage. To prevent such issues, it's important to regularly maintain your gutters and landscaping and to address any signs of damage or wear on your foundation walls as soon as possible.
Open Floor Drains
Open floor drains are a common culprit for water damage in basements. If the sewer lines become blocked, water can easily back up into your home through these drains. While floor drains are more prevalent in older homes, they can still be found in newer homes as well. 
Regardless of the age of your home, it's important to be aware of the risks posed by floor drains and to take proactive steps to protect your basement from water damage. Regular maintenance and inspections of your plumbing system can help you detect and address potential issues before they become major problems.
Failure of the Sump Pump
Sump pumps play a crucial role in keeping your basement dry and free of water damage. These pumps work by directing excess water into a reservoir and then pumping it out of your home. However, if the pump malfunctions or if there is heavy rainfall, basement flooding can still occur. 
To avoid the risks associated with basement flooding, it's important to ensure that your sump pump is in good working order and that it is regularly maintained and inspected by a qualified professional. Additionally, taking steps to waterproof your basement can also help to minimize the risks of water damage and protect the safety and integrity of your home.
Water Heater Failed
Hot water tanks are typically designed to hold between 30 and 50 gallons of water and can provide hot water for up to three to twelve years. However, even with proper maintenance, issues can arise with your water heater over time. 
For instance, you may experience leaks or other malfunctions that can impact the performance and safety of your system. It's important to address any signs of water heater damage as soon as possible to avoid further issues and ensure that your home has a steady supply of hot water when you need it.
Basement Flooding or Water Damage? Call us today at (504) 457-7929!
How To Keep Water Out of Your Basement
There are many methods to keep your basement from flooding. You can usually do most of these repairs yourself. Sometimes you may need help installing or waterproofing drainage systems.
Clean Your Gutters & Downspouts
Your gutters and downspouts will channel all water that gets into your foundation. Water can build up in your basement if your gutters are blocked. Clogs can be prevented by cleaning your gutters and downspouts at least twice a year. You can add extensions to your downspouts if necessary so that water is directed away from your foundation. Check that your gutters are in good shape and secure.
Maintain Your Property's Landscaping
Another way to prevent water from getting around your foundation is to inspect the landscaping. The foundation should be no more than three feet from the soil around your home. If your property slopes towards the home, you can add dirt. This will help water to flow away. You should place your landscaping at least six inches away from the foundation. You should keep basement water from leaking by planting bushes less than 2 feet from your foundation and trees less than 3 feet from it.
Repair Cracks and Gaps
It is important to fix cracks and other problems in your basement immediately. This will prevent water from getting into it. Hydraulic cement is the best choice for filling cracks in your foundation or floor. You can use it even if the cracks are still wet. It can be used for foundation crack plugging. It is not as strong as the other. You can carve a V shape in the crack using a chisel or an angle grinder with a Masonry knife. Use a trowel to apply a thin layer of hydraulic cement to the crack. Use a trowel to seal the crack.
Install a Drain Tile
If water is leaking into your basement, you may have to replace the drain tile. A damaged drain tile is usually the cause of water leaking from your floor. You may be able to flush the drain tile or snake it but sometimes repairs are required. Because you will have to excavate part of your foundation, we recommend hiring a basement waterproofing company. Once we've mitigated the basement water damage, we'll work with you to come up with a plan for preventing future disasters.
Install a Drainage System
Another way to prevent basement water from leaking is with a drainage system. Although there are many options available, a sump pump is the most cost-effective. A curtain stain is another option. A curtain drain is similar to drain tiles and is placed at ground level around the foundation. It prevents water from reaching your basement. You will need to dig out the foundation in order to make these repairs. A waterproofing contractor is recommended.
Waterproof Your Walls
You can also waterproof basement walls to stop leaks. The basement walls can be waterproofed from the outside or inside. A waterproofing product can be used to paint foundation walls. A waterproofing company is cheaper. They can waterproof your basement from the outside, which provides superior protection.
If you want to waterproof your basement yourself, first clean it. Start by removing any paint from the walls. Use a wire brush, vacuum, or vacuum cleaner to remove any loose paint. Cracks must be repaired. Use a brush to apply the waterproofing material in all directions. Apply the waterproofing material to the foundation wall.
You should not apply the waterproofing too thin to prevent basement leaks. Waterproofing basement walls will stop water from entering. Some interior products may still allow water to seep into your foundation, which can lead to it becoming weaker over time.
Hire A Good Plumber
Most of the dangers associated with basement water damage are not within your home. A problem can also arise from water and drain pipes in your home. It is important to inspect your toilets, sinks bathtubs, showers, and bathtubs regularly in order to avoid basement leaks.
Reliable Basement Water Damage Restoration in New Orleans
You should immediately fix any leaks and replace worn or damaged parts. To keep your basement clean and free of sewage and water, snake your sewers at least once a year. Most water departments provide free snaking services. Do not pour liquids or water into the sink. You should not pour liquids or water down the sink, even if you have a garbage disposal in your kitchen. You should not pour oils, starches, starches, or coffee grounds down your drain. It can block your sewers and cause backups. Only flush regular toilet paper and not any other type of toilet paper. When you are in the shower, use a hair catcher.
If you're experiencing a basement water damage emergency, call our IICRC-certified restoration experts. We'll dispatch a team to your property within 45 minutes, 24 hours a day!
Call us at (504) 457-7929 and learn how we can help, so we can begin giving you and your family a Fresh Start!
Service Areas: