Sewage Backup Cleanup in New Orleans
A sewage backup transforms your hard-earned refuge into a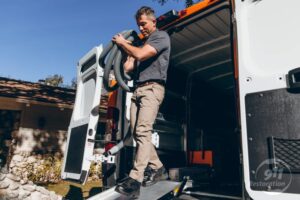 contaminated zone. From the terrible stench to the introduction of disease-causing organisms, sewer water is always a horrifying invasion. Fortunately, you can turn to 911 Restoration for expert sewage cleanup in New Orleans, Baton Rouge, and beyond. We offer 24-hour emergency sewage restoration every single day of the year.
You can get professional help dealing with sewage cleanup in New Orleans 24/7/365 at (504) 457-7929. Our team can reach homes and businesses around Baton Rouge, Metairie, Hammond and the Laplace area within 45 minutes of an emergency call. Technicians can provide a free visual mold inspection for property owners only once they arrive.
Our water damage restoration crew is IICRC certified. Every member of our staff has completed extensive training to ensure the very best service for our neighbors. These sewage restoration experts handle every part of the process. They extract blackwater, sanitize the area, and dry the structure to its core. They even manage property repairs and mold remediation.
At 911 Restoration of New Orleans, we understand that a sewage backup is more than a mess. This is a threat to the stability of your property and your own personal health. We know the stress that comes with a blackwater spill, from worrying about the cost of sewage cleanup to wondering if your property will ever be the same.
Our goal is to put your mind at ease as quickly as possible. We provide a free insurance consultation so you know exactly how much assistance to expect from your provider. A sewage restoration expert helps you file a claim and bills your provider directly.
Every sewage cleanup technician on staff holds him or herself to the highest standards. As a locally owned and operated business, we think of our customers as neighbors. We take each job personally and are dedicated to serving you safely, leaving you with a property that feels good as new. 911 Restoration of New Orleans is licensed, bonded, insured, and backed by the resources and expertise of a nationwide company. We have years of experience in biohazard cleaning services in New Orleans.
You can trust us to see you through this disaster repair companies and on to a Fresh Start. Call us at (504) 457-7929 and please allow us to offer you a free visual inspection.
24-Hour Raw Sewage Spill Cleanup Services
An immediate response is crucial for minimizing water damage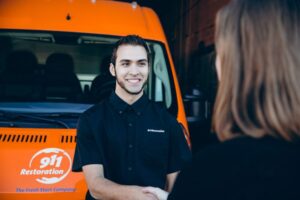 and limiting costs. This is why our water damage restoration crew is on call 24/7/365. Even if you discover a sewage backup in the dead of night, we'll be there to clean up the mess.
Properties in New Orleans, Baton Rouge, Hammond, and the surrounding area are especially vulnerable to sewage backups. With frequent tropical storms and heavy rains, the sewers often flood and overfill, forcing sewage up through your pipes and into your home or business. You can't control the weather, which means you can't control when you'll need emergency water removal. Fortunately, your friendly water damage restoration crew is always here for you.
When our experts arrive on the scene, their first priority is water removal. They need to eliminate all moisture from your home or business to prevent damages such as rotting or mold. Once they've completed toilet water removal, they dry the area thoroughly using professional blowers. We don't believe sewage cleanup is complete until we've completely eliminated the risk of long-term structural damage.
A sewer backup feels like an emergency because it is an emergency. Call 911 Restoration for immediate sewer backup in a basement in New Orleans, Metairie, Hammond, and beyond. Call us at (504) 457-7929 and learn how we can help.
Full-Service Sewage Backup Cleanup in New Orleans
Sewage restoration is more than water removal. A sewer backup can make your home or business feel tainted. Our goal is to make your space feel like a refuge again. To do that, we have to go well beyond basic sewage backup cleanup.
After removing sewage and drying the area, our water damage restoration techs sanitize your space thoroughly. A sewage backup introduces disease-causing organisms to your property. Our workers diligently disinfect the area to keep you, your family, your staff, or your customers safe.
The water damage restoration experts also survey your property for damage. They look for staining, structural weakness, warping, mold, or any other form of water damage. If they discover an issue, they repair it personally. That includes carpet removal, drywall replacement, mold decontamination… whatever you need. In the end, your home or business is clean, safe, and strong. All evidence of that disgusting sewage backup is long gone.
We know a sewer water damage odor disaster feels like a waking nightmare. But trust us: you can get through this crisis and on to a Fresh Start faster and more affordably than you think.
Just call 911 Restoration of New Orleans for compassionate, comprehensive sewage cleanup. Call us at (504) 457-7929 and learn how we can help.