Water Damage in New Orleans
911 Restoration of New Orleans
Whether you own a home or a business, your property is your greatest asset. When disaster strikes, you need a property restoration company you can trust for a fast response and expert service. You need 911 Restoration of New Orleans.
You can get professional help dealing with mold remediation and water damage restoration in New Orleans 24/7/365 at (504) 457-7929. Our team can reach homes and businesses around Baton Rouge, Metairie, Hammond and the Laplace area within 45 minutes of an emergency call. Technicians can provide a free visual mold inspection for property owners only once they arrive.
We cover everything from water damage restoration and mold removal to fire cleanup and comprehensive property sanitization. Whether you're recovering from a tropical storm or protecting against a virus, we're here for you. Our expert technicians serve both residential and commercial properties.
Every member of our staff is IICRC certified. 911 Restoration of New Orleans is licensed, insured, bonded, and backed by the resources of a nationwide company.
Above all, we work hard to provide home and business owners with peace of mind and a Fresh Start. This includes:
24/7/365 availability
Guaranteed 45-minute arrival time
Free inspection (for property owners only)
Free insurance consultation
In any disaster, count 911 Restoration of New Orleans for fast, compassionate service to provide outstanding disaster restoration service.
Water Damage Restoration
Between tropical storms and rain, it seems we're always battling water damage in New Orleans. Fortunately, our IICRC certified flood cleanup technicians are here for you 24 hours a day, every day of the year.
Whether it's a leak under the house or a destroyed roof, call 911 Restoration and our crew will be there in 45 minutes or less. They work quickly to repair damages, stop the flow of water, and dry your home or business. Emergency services include residential and commercial water extraction, roof repair, storm repair, boarding up, leak detection, and more.
From the moment our water damage restoration staff arrives, they're focused on minimizing damage and costs. The sooner they get moisture off your property, the lower your risk of mold, rotting, and other issues. Our flood cleanup workers also pack out and store any belongings at risk of damage during water damage restoration. After flood cleanup and structural drying, your dedicated technicians even handle any necessary repairs personally. They leave you with a home or business that feels brand new.
Count on 911 Restoration for speedy water damage repair and customer-focused service. We're ready and waiting to give you a Fresh Start. Call us at (504) 457-7929 and see how we can help.
Service area map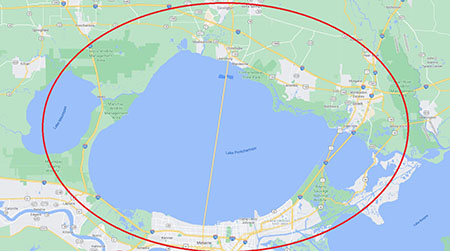 Sanitization Services & Disinfection Solutions
With the rise of the coronavirus pandemic, the pressure is on to maintain clean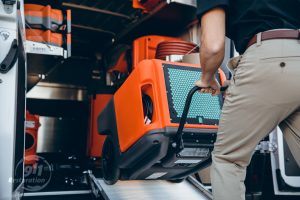 and disinfected spaces. This is especially true for commercial property owners whose business spaces are open to staff and the public.
Regular sanitization and disinfection are key to helping New Orleans stay strong and thrive beyond this momentary crisis. And 911 Restoration is here to help. Our highly trained property sanitization technicians provide comprehensive disinfection for your home or business. Our IICRC-certified techs follow the most current CDC and EPA protocols, so you can offer your customers peace of mind, knowing you've done all you can to minimize risk.
As challenging as these times are, the 911 Restoration of New Orleans is always here to offer guidance and support. For thorough, professional sanitization and deep cleaning, call us today.
Mold Removal
In a damp climate like ours, mold development is almost inevitable. However, just because the fungus is commonplace, that doesn't mean it's harmless. Without prompt mold removal, a growing colony eats away at the material holding your property together. The fungus also releases dangerous particles into the air you breathe, potentially causing health issues such as asthma or heart conditions.
The good news is that 911 Restoration is always here to provide comprehensive mold removal in New Orleans. Our mold inspection crew uncovers every trace of fungus on your property. They get rid of infesting using the safest and effective mold remediation techniques. Then, our mold removal workers dehumidify the structure where the colony grew to prevent new growth.
We even provide property repairs if your infestation has destroyed anything from drywall to carpeting. By the time our mold decontamination crew completes their work, your home or business feels fresh and new.
For the very best mold inspection and mold removal in New Orleans, Baton Rouge, Laplace, Metairie, and beyond, call 911 Restoration at (504) 457-7929.
Sewage Backup and Cleanup
A sewage backup cleanup is a property owner's worst nightmare. Between the horrible stench and the threat of water damage, you want to get sewage out of your home or business ASAP.
We understand. That's why we have sewage cleanup technicians on call 24 hours a day, 365 days a year. We even guarantee an arrival time of 45 minutes or less, so you're not stuck waiting and wondering when help will come.
Our water damage restoration experts work quickly to extract sewage and dry the affected area. They sanitize your property to eliminate disease-causing bacteria, viruses, and parasites. Then, they test the area for structural damage. If anything needs to be replaced or repaired, they take care of it themselves. They even handle mold inspection and mold remediation.
At 911 Restoration, we're determined to make your home or business good as new. Call now at (504) 457-7929 for the service you deserve.
Fire and Smoke Damage Restoration
Whether it's a property fire or a puff back, fire and smoke damage feels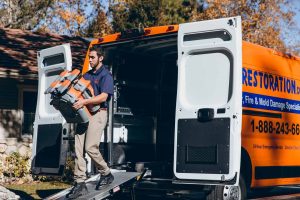 like the end of the world. We promise to make your disaster a new beginning.
Our fire damage restoration staff is highly trained and certified to handle all aspects of property restoration. After providing a free fire assessment, our workers pack out and store unharmed belongings for safekeeping. They begin fire damage restoration with comprehensive cleaning. This includes ash, soot, and smoke removal. They eliminate odors permanently and clean all surfaces, including furniture and dishes.
If your property has been flooded by a firehose, our fire damage restoration crew handles that, too. They provide water damage restoration and mold remediation. They also repair all damages, from your roof to your carpet.
We believe fire damage restoration service should provide practical solutions as well as peace of mind. That's why you can count on us for total transparency, including a free fire damage restoration insurance consultation.
You will get through this. In fact, with the right team on your side, this disaster can be your Fresh Start. Call 911 Restoration of New Orleans today at (504) 457-7929.
Disaster Restoration
In the midst of a major property disaster, it's not always clear who to call. A disaster may require multiple services, like water damage repair and fire damage restoration. Or a widespread crisis can leave you feeling like you're stuck fending for yourself.
Rest assured that 911 Restoration of New Orleans can handle any disaster. And you can count on personalized attention, even if you're one of the thousands struggling to recover.
Our disaster restoration staff has undergone extensive training to provide comprehensive solutions in any eventuality. They are equipped to handle all your repair needs and eliminate dangers safely and swiftly.
Above all, they offer compassion and a genuine dedication to giving you and your property a Fresh Start. We know that when your property is at risk, it feels like your whole world is on the verge of collapse. Trust us: you will get through this. And we can help.
For peace of mind in any disaster, call 911 Restoration of New Orleans at (504) 457-7929.
Commercial Restoration
When it comes to property damage, the stakes are high for a business owner. Your commercial property isn't just an investment. It's your livelihood. Whether you require water damage restoration or commercial disinfection, you need expert attention fast.
That's exactly what you get with our commercial restoration crew. Our expert technicians understand the unique needs of commercial property owners in New Orleans, Baton Rouge, and the surrounding area. They're here for you 24/7/365 and guarantee an arrival time of 45 minutes or less so you can get your business up and running again as soon as possible.
You can also expect complete transparency from our entire team. We provide a free visual inspection (for property owners only) and a free insurance consultation. With these services, we offer upfront answers about what services you need, why you need them, and what they cost.
As a locally owned commercial restoration business, 911 Restoration values local businesses. We are as invested in your success as you are. Count on us for thorough, high quality commercial restoration in New Orleans, Metairie, and beyond. Call us at (504) 457-7929 and see how we can help.