Mold Removal in New Orleans
Mold is more than an inconvenience or an unsightly stain. Without prompt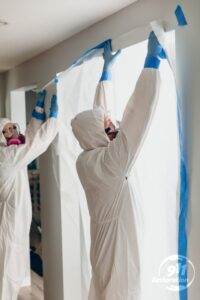 removal, an infestation destroys your property and poses a serious health risk to you and others. If you have mold in your home or business, call 911 Restoration of New Orleans for an expert mold inspection.
You can get professional help dealing with mold remediation and mold removal in New Orleans 24/7/365 at (504) 457-7929. Our team can reach homes and businesses around Baton Rouge, Metairie, Hammond and the Laplace area within 45 minutes of an emergency call. Technicians can provide a free visual mold inspection for property owners only once they arrive.
Our mold decontamination experts are all IICRC certified and equipped to eliminate your infestation safely. They dry the structure where mold grew to prevent a repeat infestation. Our mold removal team even repairs and replaces structures that have been destroyed by long-term growth.
If you're not sure whether you need mold cleanup, call us for a mold inspection. Many infestations grow out of sight. You may have mold in your walls, in your ceiling, or under your carpet. Pay close attention to the signs of fungal growth. This may include:
Unidentified, mildew-like odor
Unexplained dizziness
Frequent headaches
Unexplained increase in allergies or respiratory issues
There is a high risk of mold due to water damage. If you've recently experienced a flooded basement or any other water-related incident, call our mold remediation experts to examine your property.
You can trust 911 Restoration of New Orleans for honest, expert service. All employees of our locally owned and operated company see you as a neighbor. Our mold remediation specialist in New Orleans cares about getting you through this obstacle and onto a Fresh Start. They work with total transparency, communicate clearly, and use the safest mold removal techniques to ensure your wellbeing. 911 New Orleans is licensed, insured, and bonded for your peace of mind.
You can overcome mold quickly and affordably. But you can't waste any time. Call 911 Restoration at (504) 457-7929 for mold removal in New Orleans, Baton Rouge, Prairieville, and throughout the region.
Thorough Mold Inspection in New Orleans and the Surrounding Area
Some property owners hesitate to hire professional mold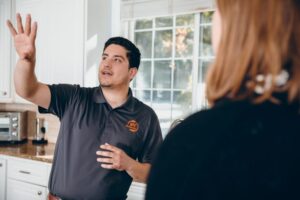 remediation contractors because they believe they can handle mold cleanup themselves. We understand the desire to save money, but the truth is, DIY mold removal costs significantly more money in the long run.
For one thing, the average property owner is not equipped to truly eradicate mold. They also don't have the professional equipment needed to treat the structure to prevent new growth.
Just as important, the average home or business owner cannot reliably conduct their own mold inspection.
Mold thrives in darkness, growing within walls and beneath floorboards. Even if you can see a colony growing right before your eyes, you can't be sure that's the only colony. Mold reproduces through microscopic airborne spores that travel throughout your property. One visible colony may be a clue that there is additional growth you cannot see. If you don't order a mold inspection to determine whether there is more growth on your property, your own mold cleanup efforts only address half the problem.
The mold removal crew at 911 Restoration is relentless when it comes to mold inspection. They uncover mold wherever it hides, ensuring that their mold cleanup service eliminates the problem completely. These professionals are also certified in water damage mold cleanup. They understand how water damage leads to mold development. If you've recently had a property flood or any other water issue, our team can follow the clues to discover every trace of mold.
Don't leave undiscovered colonies to thrive in the darkness. For true peace of mind, call us at (504) 457-7929 and learn how we can help.
Mold Experts You Can Trust
Mold is a serious issue. An infestation isn't just a threat to your property; it's a threat to your health. This is why you need a mold decontamination crew you truly trust.
You may have heard of black mold. Black mold is toxigenic, which means the fungus releases mycotoxins into the air you breathe. As these mycotoxins collect in your body, they create a toxicity that can lead to anything from asthma to heart problems.
But black mold is not the only variety you need to be concerned about. Most varieties of mold are either toxigenic, pathogenic, or allergenic. In other words, most fungi pose some threat to your health.
At 911 Restoration of New Orleans, we take this threat seriously. We care about your health, as well as the health of your family, pets, employees, or customers. Our mold decontamination experts are thorough in their mold remediation process. They also use the utmost caution, employing methods to ensure mold cleanup without spreading dangerous particles through your property.
We also understand the anxiety you may feel when you discover mold on your property. The stress is even worse if you or someone you live or work with has pre-existing health issues. Our goal is to provide peace of mind in addition to reliable mold remediation. We communicate clearly, explaining what we learn about your infestation and how we plan to handle mold removal. Our technicians are always eager to hear your concerns and answer any questions they are qualified to address.
While it's true that mold is cause for concern, it's also true that you can overcome this issue quickly, completely, and at limited expense. We have full-scale service in the mold remediation business in New Orleans. Just call 911 Restoration for comprehensive mold inspection and mold damage restoration in New Orleans and the surrounding area. Call us at (504) 457-7929 and learn how we can help