Fire and Smoke Damage Restoration in New Orleans
If you've experienced an event as destructive as a property fire or puffback, you
need more than basic fire cleanup and smoke removal. You need:
Comprehensive fire damage restoration
Complete property repair
Fire restoration insurance guidance
Clear answers
Compassionate service
You can get professional help dealing with fire damage restoration in New Orleans 24/7/365 at (504) 457-7929. Our team can reach homes and businesses around Baton Rouge, Metairie, Hammond and the Laplace area within 45 minutes of an emergency call. Technicians can provide a free visual mold inspection for property owners only once they arrive.
As a locally owned and operated business, we care deeply about providing quality fire restoration in New Orleans, Baton Rouge, Metairie, and throughout the region. Whether you own a home or a business, you are our neighbor and your property is part of our beautiful community. Our goal is to restore your home or business to brand new condition and provide you with peace of mind along the way.
Our IICRC certified technicians are trained in all aspects of property restoration. They handle everything from smoke removal to roof repair to firehose basement flood cleanup services. When you call 911 Restoration of New Orleans, you never have to find or hire another contractor. We do it all.
We even anticipate and address the stresses that come with the fire damage restoration process. There are so many questions to be answered when you're dealing with major property destruction. Our team is always available with clear information. This includes a free fire damage assessment to determine what services you need in order to fully rebuild. We also offer a free fire restoration insurance consultation so you know what to expect in terms of expense.
Consider 911 Restoration your fire information center and your ally in fire damage restoration. We promise, a Fresh Start is closer than you think. Call us at (504) 457-7929 and please allow us to offer you a free visual inspection. We provide you full-scale service for fire damage restoration in New Orleans.
Customer-Focused Smoke Removal and Fire Cleanup in New Orleans Area
When you call 911 Restoration for puffback cleanup or fire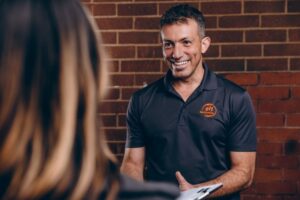 damage restoration, your wellbeing is our first priority.
Our fire cleanup crew demonstrates customer dedication by offering clear answers from the very beginning. They offer a free fire damage assessment, explaining what it will take to make your home or business new again.
When they begin fire restoration and smoke removal, they show great care and respect for your property. This includes packing out and storing any belongings that are unharmed to avoid unnecessary damage during fire cleanup. If you need smoke damage restoration in New Orleans or the surrounding area, call 911 Restoration.
Our staff provides comprehensive service, working with the goal of making your property feel clean and strong again. They use sodablasting for soot and smoke cleanup. They ensure permanent odor removal, so your property looks and smells like the refuge it once was. The smoke cleanup process includes every surface in your home or business, including furniture and dishes.
We know finding a restoration contractor you trust is a job in and of itself, so we make sure our fire restoration workers are equipped to do it all. This includes 911 water damage experts restoration if your property has been flooded by the firehose. They even inspect for mold and handle mold remediation.
Our goal is to anticipate every need and address every concern before it arises. We know this is a difficult time for you, and we hope to do all we can to get you through this challenge and on to a mold testing new orleans. 911 Restoration is the best service provider company in overall fire restoration companies in New Orleans.
Call us at (504) 457-7929 and learn how we can help. For compassionate fire damage restoration in New Orleans, Hammond, Baton Rouge, and beyond, call 911 Restoration.
How Much Does Fire Damage Restoration Cost?
If only smoke cleanup and odor removal were your only concerns after a fire or puffback.
Unfortunately, a disaster repair companies like this one comes with financial burdens and insurance paperwork. The good news is, 911 Restoration is here to help you keep costs down and set clear expectations from the beginning.
When you call us for smoke removal and fire cleanup, one of our experts provides a free fire assessment. This process clarifies everything you need to fully recover, from smoke cleanup and odor removal to structural repairs.
Once you understand what needs to be done, we offer a free insurance consultation. After reviewing your insurance policy, a staff member explains which services your provider covers. Then, they help you with inventory and loss itemization. They even file a claim for you and bill your provider directly.
You have enough to think about. Let us deal with the complicated insurance process. Let us figure out how to handle odor removal and roof repair. Let us determine how to make your home or business feel brand new, so you can focus on rebuilding your life.
This is a difficult time. There's no doubt about it. But you're not alone. For the best smoke removal and fire remediation in the New Orleans area, call us at (504) 457-7929 and learn how we can help..