Water Damage Restoration
When water damage challenges bubble up in New Orleans, homeowners and businesses trust in our IICRC certified and trained water removal experts with 911 Restoration New Orleans to get the job done right the first time.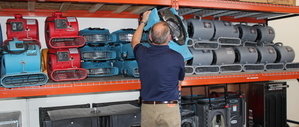 Eliminating moisture and residue after a water damage event is one of the only ways to stop the damage from burgeoning beyond its initial level through mold contamination and to provide this service, our technicians are always available 24/7/365 to take on any challenge.
Being quick to service homes or businesses after water damage has occurred means that our staff will arrive within 45 minutes of your emergency call to start the healing process for your home.
When a flooding event, water heater failure, or toilet overflow occurs, our water damage New Orleans specialists will provide the highest quality services and work that can be found in the restoration industry.
Don't let your living room become a water hazard through a ruptured appliance hose or any other means. Contact our teams of professionals with 911 Restoration New Orleans today and let the experts take care of everything for you today!
Ceiling Leak and Flooding Prevention Measures
Our water damage New Orleans specialists take on so many fluid-based problems on a daily basis that there is no water damage event that can happen which our professionals can't solve with ease.
This heightened level of familiarity also allows our technicians to provide people with the advice that they need to prevent such instances from ever taking place.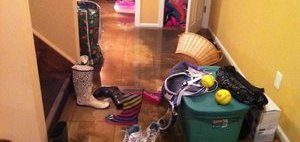 People absolutely need to make sure that they clean out their gutters and downspouts before the rainy season begins to ensure that they don't create clogs which will allow overflows that can spread apart the layers of the roof.
Once the roofing layers separate and spread, water can more easily find a way into the structure of the home where it will create ceiling leaks and soaked drywall.
Another way that homeowners can avoid water damage from flooding is by making sure that their hoses and fittings on appliances which are connected to the water line aren't abraded, worn, or torn at all.
Doing this will allow people to find smaller nicks and cuts that will only grow with increased water pressure, and might rupture creating large amounts of water damage for those who are unprepared.
Don't let a hose rupture or water heater failure flood your home unexpectedly. Contact our water damage New Orleans teams with 911 Restoration today and let them help you protect your home from the elements!
Storm Surges Restoration
With the proximity of the Gulf of Mexico so close to New Orleans, water damage challenges are a regular occurrence. This means that homes and businesses that want the best protection in the industry need to utilize the skills and expertise of 911 Restoration New Orleans to ensure their property wins the fight against the next hurricane or super storm.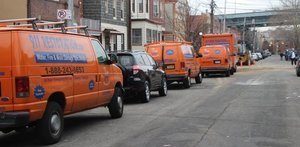 When the rains stop, we will be there for people when they need us the most.
Our technicians have years of experience in the industry and this level of familiarity and expertise gives our staff the ability to not only perform water extraction better than anyone, but also in eliminating the stress from people's lives after such events take place.
Our water damage New Orleans crews care so much about the people in the area and the homes that they live in that we will even fill out and send in all of the insurance paperwork that your restoration project requires.
Don't ever let a water damage event force you to figure things out on the fly. Contact our water damage restoration New Orleans specialists with 911 Restoration New Orleans to get the most comprehensive and complete restoration work in the industry for your home or business today!