Water Damage Restoration in New Orleans
If you need flood damage restoration in New Orleans or the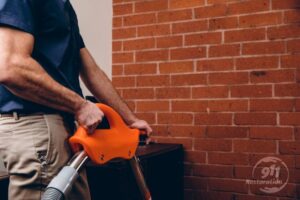 surrounding area, call 911 Restoration. Our lines are open 24 hours a day, 365 days a year. Whether a pipe bursts in the middle of a night or a tropical storm leaves you with a flooded basement on a weekday, we'll be there.
You can get professional help dealing with water damage restoration in New Orleans 24/7/365 at (504) 457-7929. Our team can reach homes and businesses around Baton Rouge, Metairie, Hammond and the Laplace area within 45 minutes of an emergency call. Technicians can provide a free visual mold inspection for property owners only once they arrive.
At 911 Restoration, we believe every disaster repair companiesis an opportunity for a Fresh Start. That's why we train our water damage restoration technicians to handle everything from water removal to drywall replacement. Count on our IICRC certified crew to arrive immediately, work swiftly, and restore your property completely. We provide full-scale service for water damage restoration in New Orleans.
We serve both commercial and residential properties in New Orleans, Baton Rouge, Hammond, and the entire region. As a locally owned and operated company, we're driven to maintain the homes and businesses that make our community beautiful. We consider you our neighbor, and our water damage restoration staff work hard to provide the quality service you deserve.
Our flood cleanup experts also understand the stress you're under when an unexpected pipe burst or tropical storm ravages your property. They're dedicated to providing peace of mind through transparent service and clear communication. 911 new orleans is licensed, insured, and bonded. We offer a free visual inspection (for property owners only) and even provide a free insurance consultation.
We're here to answer all your questions and follow through with practical, affordable solutions. In the end, you're left with a home or business that feels as fresh and clean as the day you moved in.
If you have a flooded basement or any other form of water damage in New Orleans, Metairie, or beyond, don't waste another second. Call 911 Restoration at (504) 457-7929 for fast, comprehensive service. We provide you water damage restoration service in New Orleans.
24-Hour Emergency Water Damage Restoration in New Orleans and Beyond
It doesn't matter if you're dealing with a frozen pipe burst, flooded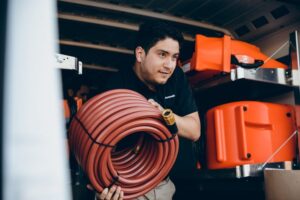 basement, or water leaking under the house. Water damage is always an emergency.
As water sits on your property, it seeps into the structure of your home or business. The longer you go without water removal, the higher your risk of rotting, warping, and mold development. And as you know all too well, more damage means greater expense.
That's why our flood cleanup crew wastes no time in addressing your water damage. When your call comes in, they're there in 45 minutes or less. The staff immediately packs out and stores any items that could be in danger of damage during flood cleanup. Then, they begin water removal and any necessary efforts to stop the flow of water. Our emergency services include:
Roof repair
Storm repair
Water cleanup for pipe bursts
Water removal
Boarding up
Leak detection
And more
After water removal is complete and our experts have addressed the cause of the problem, they dry the area using professional blowers. Then, your dedicated flood cleanup crew inspects for mold and structural damage. Mold inspection is especially important in the case of a flooded basement, and fungus thrives in cool, dark spaces.
Our water damage restoration staff is certified in mold remediation. If they discover a developing infestation, they handle mold removal and repair personally. You never have to call another contractor. The same is true if they find that any structure in your home has been destroyed by water damage. Whether you need your roof patched or your contaminated carpet removed, 911 Restoration has you covered.
We don't believe our job is done until your home or business feels like your own again. You deserve fast, comprehensive flood cleanup and mold removal. Call 911 Restoration of New Orleans today at (504) 457-7929.
How Much Will I Get Paid for Water Damage from Insurance?
When you discovered that flooded basement or frozen pipe burst nightmare, your mind probably went straight to the question of expense. You're not alone.
Most property owners panic at the thought of paying for water damage restoration or having to deal with insurance providers. We understand how stressful these concerns can be, and we do all we can to alleviate your worries. The need for water damage services in New Orleans is almost inevitable for every local property owner.
In addition to offering affordable service, we work swiftly to minimize water damage and the resulting expense.
We also provide a free insurance consultation so you know exactly how much help you can count on from your provider. A flood cleanup expert reviews your policy and explains your exact coverage in clear, simple terms. They tell you which services your provider covers, and which costs fall to you. Then, they assist with loss itemization and claim filing to make sure you get every dime to which you are entitled. 911 Restoration always bills your provider directly, so you don't have to think about any expenses that are not your responsibility.
After all the energy and resources you poured into your home or business, water damage can feel like a devastating loss. 911 Restoration is determined to do whatever it takes to turn this moment into a new beginning. We have years of experience in water damage repair in New Orleans.
For excellent service and a Fresh Start, call 911 Restoration of New Orleans at (504) 457-7929.