Disaster Restoration in New Orleans
Whether it's an act of nature or a human-caused accident, an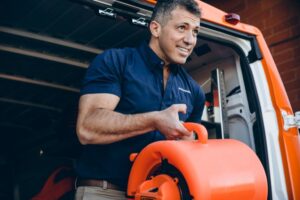 out-of-nowhere property disaster can leave you reeling. You might not know who to call. You may be unclear as to what type of services you need to make a full recovery. Worst of all, you might feel like the property you've worked so hard to protect is lost to you forever.
You can get professional help dealing with disaster restoration in New Orleans 24/7/365 at (504) 457-7929. Our team can reach homes and businesses around Baton Rouge, Metairie, Hammond and the Laplace area within 45 minutes of an emergency call. Technicians can provide a free visual mold inspection for property owners only once they arrive.
Our disaster repair companies crew is IICRC certified and fully prepared to handle even the most unexpected and complicated crises. The disaster restoration experts on staff can handle any eventuality, including:
Water extraction and water damage restoration
Soot, ash, and smoke removal
Permanent odor removal
Raw sewage spill cleanup
Structure and surface repairs
Mold inspection and decontamination
And much more
We equip all emergency restoration workers with the gear necessary to ensure their safety and yours during disaster cleanup. We also ensure all technicians have the skill set required to fully restore your property. This means you never have to find another contractor. It only takes one call to 911 Restoration to get storm restoration services in New Orleans.
911 Restoration of New Orleans is licensed, insured, bonded, and locally owned and operated. We serve both residential and commercial restoration properties with disaster restoration in New Orleans, Baton Rouge, and the surrounding area.
Above all, we believe in serving our neighbors with compassion. We know a property disaster is devastating and can leave you feeling lost and vulnerable. You need a disaster restoration company you can count on. Our team works hard to earn your trust through a high standard of service, regular communication, and total transparency.
Call us at (504) 457-7929 and please allow us to offer you a free visual inspection. We provide storm damage repair in New Orleans.
You're not in this alone. For emergency restoration in New Orleans, Metairie, Hammond, and beyond, call 911 Restoration today.
Emergency Water Damage Restoration for Homes and Businesses
Water damage is a common element of almost any disaster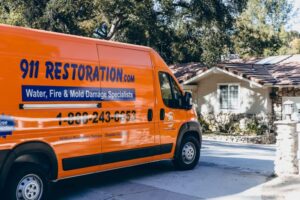 situation, especially in our region where storms are prevalent. Whether you've been through a hurricane or experienced a pipe burst as a result of another disaster, we're here for you.
You can reach our water damage restoration technicians at any hour of the day or night, every single day of the year. We guarantee an arrival time of 45 minutes or less, so you're never left waiting and worrying.
Our flood cleanup experts work swiftly to extract the water and dry your property to its core. Our water emergency restoration services include:
Packing and storing services
Roof repair
Storm repair
Boarding up
Pipe burst water cleanup
Water removal
Structural drying and dehumidifying
And more
Once your home or business is dry, our water damage restoration workers take the next steps towards ensuring a full recovery. This includes structural testing and any necessary repairs. They conduct a mold inspection and remove any discovered infestation. They sanitize the area thoroughly to ensure your health and safety.
You can count on 911 Restoration to take your well-being seriously. Even in the midst of a widespread catastrophe, our disaster restoration staff provides focused attention and quality service.
It's okay if you don't know how you'll recover from this crisis. We do. Call us at (504) 457-7929 and learn how we can help.
What is the Cost of Disaster Restoration in New Orleans?
If it's difficult to figure out what services you need to recover from a disaster, it's even harder to determine what insurance pays for. And as any property owner knows all too well, insurance companies don't work very hard to offer clarity.
At 911 Restoration, we know that setting clear expectations for expenses is important for providing peace of mind. This is why we offer a free visual inspection (for property owners only) so we can explain what services you need before disaster restoration even begins. Then, a member of our staff sits down with you for a free insurance consultation.
After reviewing your policy, our emergency restoration expert explains which necessary services your provider pays for. You get a clear picture of your own financial responsibilities. Then, to ensure you get the coverage you deserve, our staff assists with the complicated paperwork. They help with inventory and loss itemization. They file your claim for you. And they bill your provider directly.
When you're in the process of rebuilding your life, you need clear answers and practical solutions. You can find that kind of support with 911 Restoration of New Orleans.
Call us at (504) 457-7929 and learn how we can help.