The Awesome Advantages of a Vinyl Floor
Have you ever thought about installing vinyl flooring? If not, give it some serious thought. Vinyl is not only long-lasting, but virtually maintenance-free, and easy to install. Once installed, you will only have to wash a vinyl floor to keep it clean. Vinyl is also water resistant, and even if water sits on vinyl floors for long periods of time, it won't damage the surface.
If you are budget-conscious, you're in more luck, as vinyl is relatively inexpensive compared to other flooring options. Despite its low cost, vinyl is durable as well as attractive. 
Vinyl Flooring for the Bathroom
Because vinyl is water resistant, it is the perfect choice for the bathroom. After all, the bathroom is where most water in a house gets splashed around, and frequently. It will not only look great on your bathroom floor, but greatly lessen the chance of mold developing in the bathroom, as mold in bathrooms is quite common due to dampness and humidity. 
Due to its water resistance, vinyl is also ideal as flooring in kitchens, laundry rooms and basements. 
Different Types of Vinyl Flooring
All vinyl flooring is completely made from synthetic material. However, there are differences. Standard sheet vinyl, for example, consists of a base layer that is typically made of fiberglass, which is then coated in PVC vinyl and a plasticizer. It also contains a layer of no-wax polyurethane.
On the other hand, stone plastic composite vinyl is made from natural limestone powder, polyvinyl chloride and stabilizer. Wood plastic and polymer composite vinyl is composed of thermoplastics, wood flour and calcium carbonate. It is the most effective for areas of your house that are high moisture. 
Luxury vinyl tile is also 100 percent waterproof. It is also kid- and pet-proof, as well as very easy to maintain. 
Vinyl is perhaps the most popular form of resilient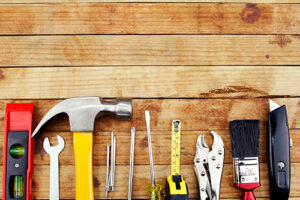 flooring, even more than linoleum. It also possesses the perfect balance of firmness and give, which means it springs a little when walked on. 
It is an ideal flooring because of its eclectic designs and vibrant colors and textures. You can even find vinyl flooring that looks just like wood. If you didn't know better, it would be hard to tell the difference by looks alone. It is also extremely dependable. This is why when it comes to choosing flooring, more and more homeowners are going with vinyl. It holds up against even the worst conditions. 
Vinyl is significantly less expensive compared to the other options available on the market today. Its water-resistant nature makes it an ideal choice for bathrooms and kitchens. Finally, vinyl is the perfect choice for the DIY person, as it is easy to install and can be a fun project.