Earthquake Safety Checklist for Homes – During & After
One of the most destructive nature forces is the earthquake caused by the shifting and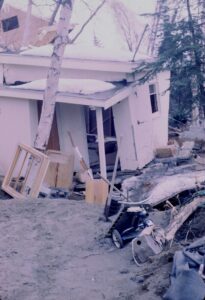 breaking of subterranean rocks. This movement releases the energy accumulated inside these rocks over a long time, and as a result, wreaks havoc on those living above the ground. Not only are earthquakes dangerous, but they also occur without warning. Hence, they can happen when least expected; you should be prepared beforehand—mentally and physically—so that you what steps to take to keep yourself and your family safe during and after an earthquake.
Therefore, to help you with this, we have created a detailed earthquake safety checklist for property owners. It is advisable that you read it thoroughly and prepare for an earthquake accordingly to minimize the damage to your property and ensure the safety of everyone inside the house.
How to Prepare
When it comes to keeping yourself safe during an earthquake, how you prepare for it is crucial. For example:
Make a proper emergency kit for disasters. When a disaster strikes, at that time, you will not have the time to collect all supplies in a kit. Therefore, make an emergency kit in advance, and keep it in an easy-to-reach place.
The basic items to include in an emergency kit are water for sanitation and drinking, non-perishable food, a first-aid kit, flashlight, whistle, moist towelettes, cell phone battery-powered radio, duct tape, and dust mask. Make sure that the water and food items are enough to last at least three days.
These items will come in handy if you get stuck inside the damaged house after an earthquake. With these items at your disposal, you will be able to survive and call the rescue team for help promptly and without any delay.
Next, sit with all family members that reside with you to establish an emergency plan in case of an earthquake. All family members should know the commonplace to gather after an earthquake to ensure that everyone is safe.
Everyone in your family should also practice the 'drop, cover and hold-on exercise. This exercise is designed to ensure that you are spontaneously and act fast to ensure you are safe during an earthquake. It will be your reflexes fast and help you think straight instead of getting panic. The exercise involves the following steps:
Look for sturdy furniture and get under it, or go near the corner wall and stand there.
Drop on the ground and quickly cover your head with your arms
Hold on to a sturdy covering and wait when the shaking stops.
Practice this often so that you can react fast when the disaster strikes
Get your property inspected by a professional to make sure that it is resistant to earthquakes. If it is not, then take the necessary measures as recommended by the professional to make your home resistant to earthquakes.
What to Do During an Earthquake?
During an earthquake, stay calm and try to exit the house as quickly as you can and then stand in the open air away from the property. Also, move away from trees, utility wires, and streetlights as these can fall too during an earthquake.
This will be possible for those who are close to the back or front doors. However, let's suppose you are living in a two-story home or an apartment, and a quick exit is not possible; in such a situation, here's what you should do:
Grab on to the emergency kit if it is near you and perform 'the drop, cover, and hold-on exercise.
Keep your face away from glass doors and windows as they will shatter or might fall down during an earthquake, especially if the earthquake is of high intensity.
Make sure to cover your head at all times from the flying and falling objects. Even the heaviest structures installed in the house and on the ceilings can fall when the earth shakes.
Stay where you are. Keep lying or sitting down on the ground near a structurally sound place until the earthquake is over. Once the shaking stops, don't just uncover yourself right away because there can be aftershocks.
After a few minutes, when everything is settled down, locate a safe exit and go outside. Stay away from damaged structures.
However, if you're trapped, use the emergency kit's cell phone to call the rescue service for help.
Restoration After an Earthquake
Once the earthquake has passed, it will be time for you to recover and restore your life back to normal.
Contact 911 Restoration of New Orleans for disaster restoration services. Serving homeowners in New Orleans, we are a trusted team of home restoration experts. We are available at your service 24×7 and arrive at your location within or less than 45 minutes to handle all kinds of emergencies. Our team is IICRC certified. Apart from home restoration after fire, we are trained and equipped to handle all complicated crises, damages, and destruction caused by earthquakes.
Once you contact us, our team will first check and inspect the property damage, along with assessing potential hazards lurking inside your property, such as toxic fumes and possible collapse)
We will check utilities like gas, water, and electricity and turn them off at the source. Our team will assess building cracks and damages to the roof, foundation, and other structures to determine repairs and the scope of restoration work.
At 911 Restoration of New Orleans, our experts will work with you at every stage, ensuring your home is in its livable condition again. From clean up to roof repairs and other structural repairs, we will assist you will find them all and to your complete satisfaction. For more information or assistance, contact us today. Let us help.