Commercial Property Code In Flood Zones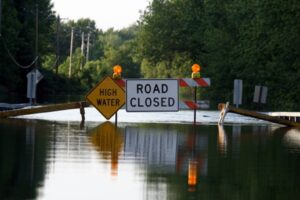 Cities that happen to be near high-chance flooding water bodies are marked as flood zones. This means they experience flooding more than other areas throughout the year.
If a city or area is marked as a flood zone, the high possibility of commercial and residential buildings facing floods is inevitable. Therefore, city councils and government management systems come up with flood management measures and commercial property codes to protect buildings and the people that use them.
These measures and codes cover various aspects such as requirements for flood zoning, building requirements, and special floodplain ordinances.
Flooding in New Orleans
Flooding in New Orleans can occur in any month of the year. This predicament is why the Federal Emergency Management Agency has marked several areas as the Special Flood Hazard Area in New Orleans.
Due to the perilous nature of the flood zones in New Orleans, there is a proper flood warning system put in place for the safety of the city.
Flood Warning System for Flood Zones
Here are the four terms used for the flood warning system:
Flood Watch – a possible flooding
Flash Flood Watch – A quick flood, also referred to as a flash flood
Flood Warning – A proper flood is occurring in the area or is minutes away
Flash Flood Warning – People are to seek high ground as a flash flood is currently occurring
Commercial Property Building Code
The commercial properties in New Orleans need a permit in order to exist and function in a high-priority flood zone. If you are constructing a new facility or even repairing a building that has been substantially damaged in a flood, you have to meet the latest flood protection requirements as laid out by the council of the city.
Contractors who want to construct new buildings must follow all the flood protection requirements if they want to develop a commercial business in a flood zone. Some of these requirements include but aren't limited to:
The new construction is to be built either three feet above the adjacent curb or at least one foot above the base flood elevation provided by the government.
Experts in the area strongly recommend purchasing flood insurance if your building is in a flood zone. Many insurance companies that offer typical insurance protection policies do not cover damages if the building is part of a flood zone. Flood insurance, on the other hand, is applicable whether you live in a flood zone or not.
Every property must have a clean drainage system installed in order to allow the flood or stormwater to flow easily. The government board strongly recommends regular maintenance of every drainage system to keep the area safe and clear. Commercial property cleaners will be responsible for debris and chemicals that may hinder the free flow of floodwater through the basins, drains, and canals that connect to their property.
Several permanent changes have become part of property construction in flood zones, which may include building elevation so that the floodwater doesn't reach the entrance or any area that could suffer damage.
Commercial structures are to be dry proofed with wall coatings so that the building floor and walls become watertight.
Among other protection measures, it is essential to have a contingency plan in place if the floodwater damages your commercial property. Having a flood damage restoration company on standby can be very helpful, especially in a flood zone setting.
Who Can Help?
No matter which month of the year it is, New Orleans is always battling with water damage. Whether it's a flood or a hurricane, 911 Restoration of New Orleans is here to save the day.
911 Restoration and their team of IICRC certified flood cleanup technicians can offer top-notch flood restoration services that can restore your commercial properties in no time.
With a call time of 45 minutes or less, the 911 Restoration crew can quickly work to repair damages and extract the water from your commercial properties. Their emergency services include commercial water extraction, storm repair, boarding up, leak detection, and other flood restoration services.
As soon as the flood restoration services team arrives at your commercial property, their main goal is to focus on minimizing your cost and damage. The first step is always to get rid of any moisture from your commercial property because it lowers the risk of rotting, mold, mildew, and other flood damage related issues.
Their workers can pack and remove any belongings from your commercial properties to reduce the risk of water damage and fasten the overall flood restoration services needed to restore your commercial property.
After structural drying and flood cleanup, 911 Restoration's dedicated technicians handle all your repairs meticulously and expertly, including electrical work and plumbing. Their customer-focused service and speedy repairs are everything you need for a fresh start!